Castle hotels, estates and manor houses
About our international partners
Historik Hotels values cooperation with international partners. This helps us provide you with recommendations for extraordinary accommodation outside of Germany.
Choose one of our partners listed below and click on the link to visit their website.
France
This association brings together some of France's most exclusive historic hotels, castles, manor houses and vineyards.
Italy

These villas, fortified castles, ancient estates, guest houses and farmhouses in surroundings steeped in art and history will further your penchant for warm hospitality in historic surroundings with modern, renovated facilities.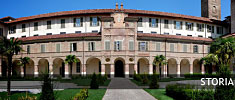 Poland
Poland Exclusive stands for an inspiring collection of recommended hotels and top restaurants in Poland.