Hotel marketing –
For your extraordinary establishment
Gain strength as part of the Historik Hotels association
As a hotelier do you want to contact guests that are looking for exactly the type of individual character that your business provides? Historik Hotels can support you in your marketing.
Here you will find all the information, opportunities, conditions and applications you need.
Historik Hotels: your prominent partner for the private hotel trade
As a member of Historik Hotels, you will benefit from being part of a strategic association that positions the individual character of your establishment attractively on the internet and via PR.
Find out more - click on:
Focusing on your property's history
With the support of Historik Hotels, the history of your establishment and the identity of your brand are given centre stage: via the internet network, incl. partner logos and brochures as well as professional press and PR work.
Find out more about our marketing strategies:
Marketing Strategy of Historik Hotels
Press Article - Touristikpresse
Becoming a member: your conditions and services
As an establishment with a historic atmosphere and an existing internet presence, you can become a member of the Historik Hotels association.
Find out more about the specific conditions:
Acceptance criteria and Services
Interested? Your application to join
Want to become a member of the Historik Hotels association? We look forward to welcoming you.
Download your application here
and send it back to us, filled in, by FAX to the fax number indicated on the form.
Should you require further information, Ms Leckebusch-Mechri or Mr Thäns will be happy to help: please telephone (049) 0221-973172-150 or send an e-mail to info@historikhotels.com.
Outdoor sign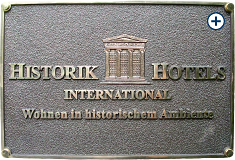 Logo

Download PNG (197kb)